The mash-up trend of zombies X anything surprisingly has extended to classic works of the Regency period. I am sure that I am not alone in sharing my shock at the blending of each very different genre. With a little more thought however, the genre-blend makes literal the metaphoric monsters of English high society. The Austen novel, does have monstrous elements, fiends like Mr. Wickham, threatening Lady Catherine de Bourgh, or the social system itself. Grahame-Smith's retelling of the classic, places literal monsters into a society already frightening. With violence normalized, the Bennet women are empowered with the martial arts and able to physically defend themselves. Even with this historically incorrect characterization of women, the Bennet's are still unsafe in society without proper marriage. The addition of actual flesh eating zombies makes the threat of spinsterdom quite ridiculous, and increases the humour in Mrs. Bennets' unrelenting matchmaking. Surely society in England has much more to concern itself with than the pomp and ceremony of courtship with zombies on the loose!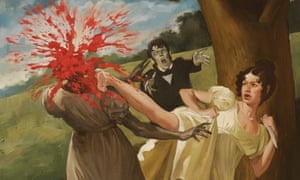 An illustration by Roberto Parada from the deluxe
gift edition of Pride and Prejudice and Zombies.
Admittedly, the novel and movie feel like a bit of matchmaking between the two unlikely fandoms the Janeites and Zombies. I however, prefer to think of the match like Elizabeth and Darcy; an unlikely pair that brings the best out of each other and makes a mockery of their failings.